If you want to be on the float…
Bring your own bag of candy individually wrapped! (We will be throwing this at kids so it needs to be wrapped :))
Canned food donation – Bring 2 cans (due Thursday in choir room)
Come to choir room immediately after school on Oct 24th! (Please be dressed or bring the right clothing with you)
Our theme is "ARTISTIC SWIMMING" – here is an idea of the costume we are shooting for: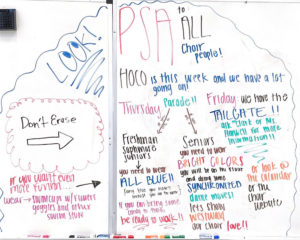 What to Wear:
One-piece swimsuit – guys, wear swim trunks.
Guys, wear your choir shirt. No shirtless guys. We can't handle the crowd.
Shorts/Skorts over the swimsuit
Either flip-flops or sandals. Safety.
ALSO: SWIM GOGGLES OR NOSE PLUGS, OR BOTH, BECAUSE WESTWOOD. OR WEIRD SUN-TAN LOTION. BECAUSE A JUDGE MAY HAVE SAID IT WAS A "GOOD IDEA."
Itinerary:
Be in the choir ready to go immediately after school – 4:30
Finish putting items on the float.
Line up to get on the float – 5:00
Floats line up outside at – 5:15
Floats will begin leaving – 6:00
Floats must be off the street – 7:15
Following the parade will be the pep rally – 7:30
FAQ:
I'm a part of another group. What do I do?
You can walk with either group. We'd love to have you sing with us for the National Anthem at the beginning of the pep rally.