Savan Kotecha Scholarship Recipients
Savan Kotecha (WHS Class of '96), is a prolific and award-winning songwriter and music producer, who has been the recipient of 9 BMI Awards, 13 ASCAP Awards, and 2 Billboard Music Awards. His songs have achieved number-one status all over the world, having sold more than 250 million copies. Kotecha was seen on the American version of Simon Cowell's The X Factor as a vocal producer, a role reprised from the original UK show, and he aided and developed the show's budding talent.
As a Westwood HS Choir alum, Savan has continued to honor his fine arts education by graciously giving back to the Warrior community.  Over the last few years, Savan has given several scholarships for Westwood HS Choir students, and at the end of SXSW this year, he met with several Choir classes to share his story of success as a songwriter, and to announce his continued financial commitment to the 2018 Kotecha Scholarship Awards.
2018 Kotecha Scholarship Awards
Vocal/Music Study Awards (4 individual awards, in the amount of $500 each) – this award is open to Westwood Choir underclassmen who will be returning the following school year.
This year's Vocal/Music Study Awards were given to:
Ananya Anand ('20)
Sejal Jain ('20)
Nupur Sampat ('19)
Katya Lopez ('20)
Kotecha Scholars (2 individual awards, in the amount of $10,000 each) – this award is open to graduating seniors in the Choir program who will be pursuing a music degree or program of study following their graduation from Westwood High School.
This year's Kotecha Scholars are:
Alexis Lemus
Kyra Kornfeld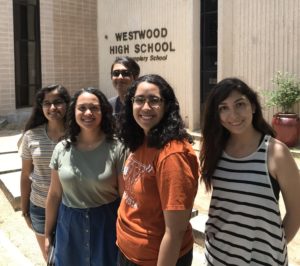 (L to R) Sampat, Kornfeld, Anand, Lemus, Lopez (not pictured – Jain)
Congratulations to recipients, and thank you, Savan Kotecha, for your continued support!