The Westwood Choir Booster Club sponsors a tailgate party each year to bring together the Westwood HS Choir Learning Community in advance of the performance of the National Anthem at the Homecoming Game.
Location
Kelly Reeves Athletic Complex
[clickable map]
10211 W Parmer Ln
Austin, TX 78717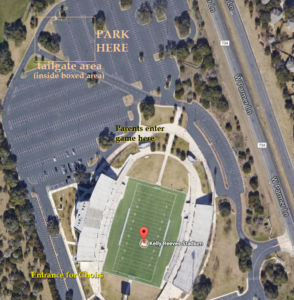 What Do I Wear?
REMEMBER – no backpacks/bags allowed in the stadium!
Choir Shirt
Jeans
Closed toe shoes – no flip-flops or sandals
Food Menu Items
Thank you to our Choir Booster Club for providing food for the pre-game tailgate. Remember to bring $ for items during the game if you choose to stay!
Parents – want to help us out?
Look at our Signup Genius for this event.
hotdogs
veggie burgers for vegans/vegetarians
chips
cookies
water
Itinerary
3:30 pm – Booster parents arrive at Kelly Reeves Athletic Complex, begin setup
4:45 pm – Choir officers arrive at Kelly Reeves Athletic Complex
5:00 pm – Students from Westwood HS, Canyon Vista MS, and Grisham MS are welcome to join us
6:15 pm – Brief combined rehearsal, in the general area of the tailgate
6:30 pm – Students walk into the stadium in the west (Band) entrance
6:58 pm – Choirs sing the National Anthem with the Westwood Warrior Band